I've recently uploaded a haul video in Youtube. It's for my November Haul. I am actually broke now because of being an excessive buyer. T_T
So, those were my purchases. Let's move on to the topic. As you can see in the video, I've purchased my first ever false eyelashes. :) Yes, I haven't worn any false eyelashes because I don't have a problem with my lashes. They are quite long. And when added with mascara, they are close to perfect (bragging aside). :D

I am not into false eyelashes, so, I had a hard time choosing on which one to buy. You see, the imperfection of my lashes is that the inner corner of my eyes has lesser lashes. Apart from that, I have long and thick lashes.
I can say that false lashes really give definition to the eyes. They make the eyes more dramatic.
Here's my eyes both with false eyelashes on. Apparently, they look good eh? And please, don't be fooled by my eyes. Those are not contacts. They are what you call something-out-of-brilliant-editing. hahah. Thanks to photoshop! :D
You can tell my ignorance with lashes. Really! hahha. I am very overwhelmed by my experience.
So, here's to using more fake lashes!
:D (That is, if I have more money to buy more designs and styles or if someone would sponsor them).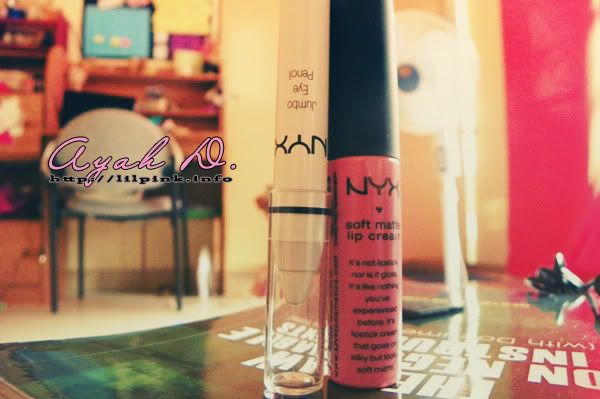 Oh, these arrived today. I purchased them at www.nyxwholesaleph.com. The products are great. I am really being a makeup-holic. I need more moneeeeey to buy a lot! :(
I know you can tell that my camera is now back. Yay! Though, the lens cover was left at Kodak. asdfgjkl! They should buy me one. T_T
PS: Here's my eye makeup for the video above:

No fake eyelashes. No mascara. WTH! hahah. I even haven't defined my brows. Sorry, I forgot. My eyes looked like moist jungle. hahah.